Sunday Roasts at the Crown & Cushion & Meade Hall Carvery
IT'S BACK! Our indulgent Meade Hall Carvery is back again from 2nd October until Spring 2023. The carvery is £23.95 for 2 courses, or £29.95 for 3 courses. The carvery consists of at succulent meats, stuffing, pigs in blankets & unlimited fresh vegetables. The carvery is especially great for larger groups in our grand Meade Hall – perfect for special occasions! Book online any time between 12:30 – 13:15, or call us on 01252 545253. Click here to see our menu.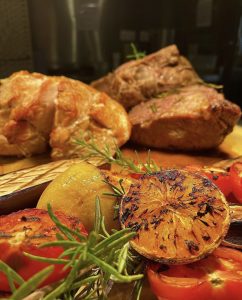 In the main pub like our Roasts with giant homemade Yorkshire pudding, individual cauliflower cheese and lashings of homemade gravy plus all the usual trimmings! Choose from Roast Sirloin of Beef, Roast Turkey or Veggie Nut Roast.
All your pub favourites from our menu are also available as well as a selection of vegan dishes, so we have something for everyone.
Our Roasts are now served every Sunday from 12pm-5pm. Book a table now!